Different requirements – single-source solution.
Federation of the German Foundry Industry opts for LED.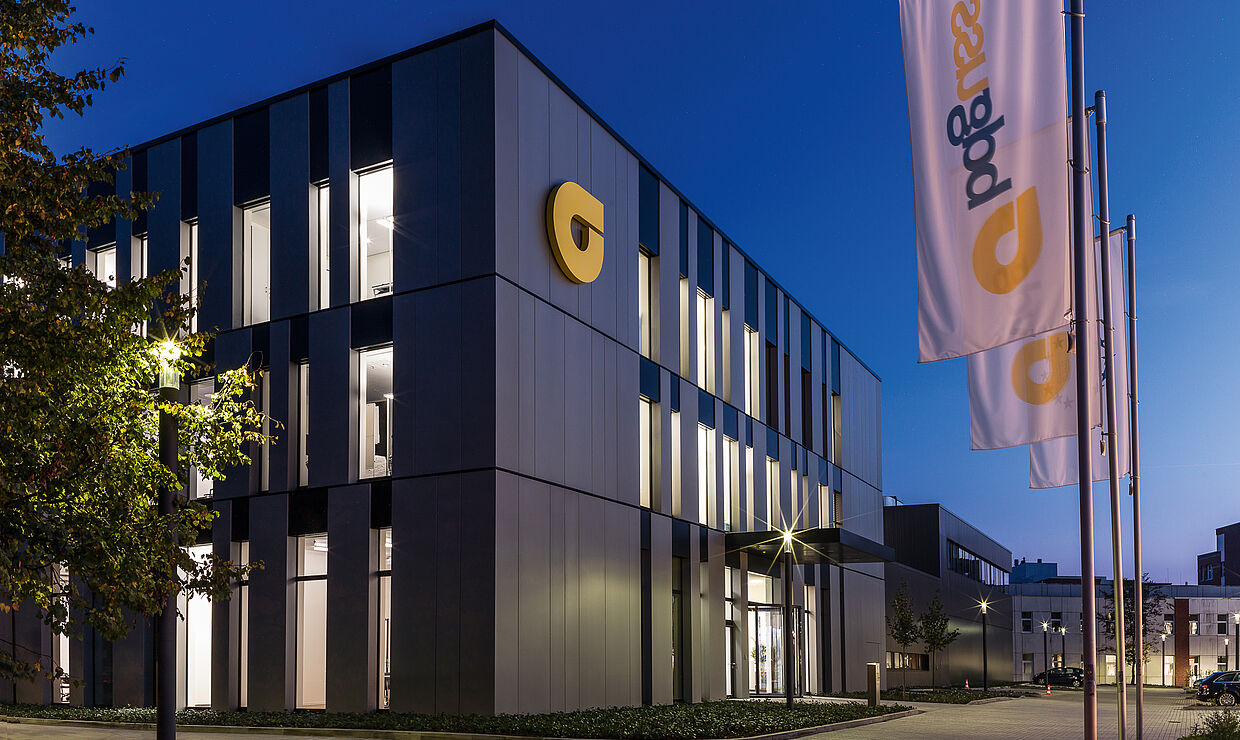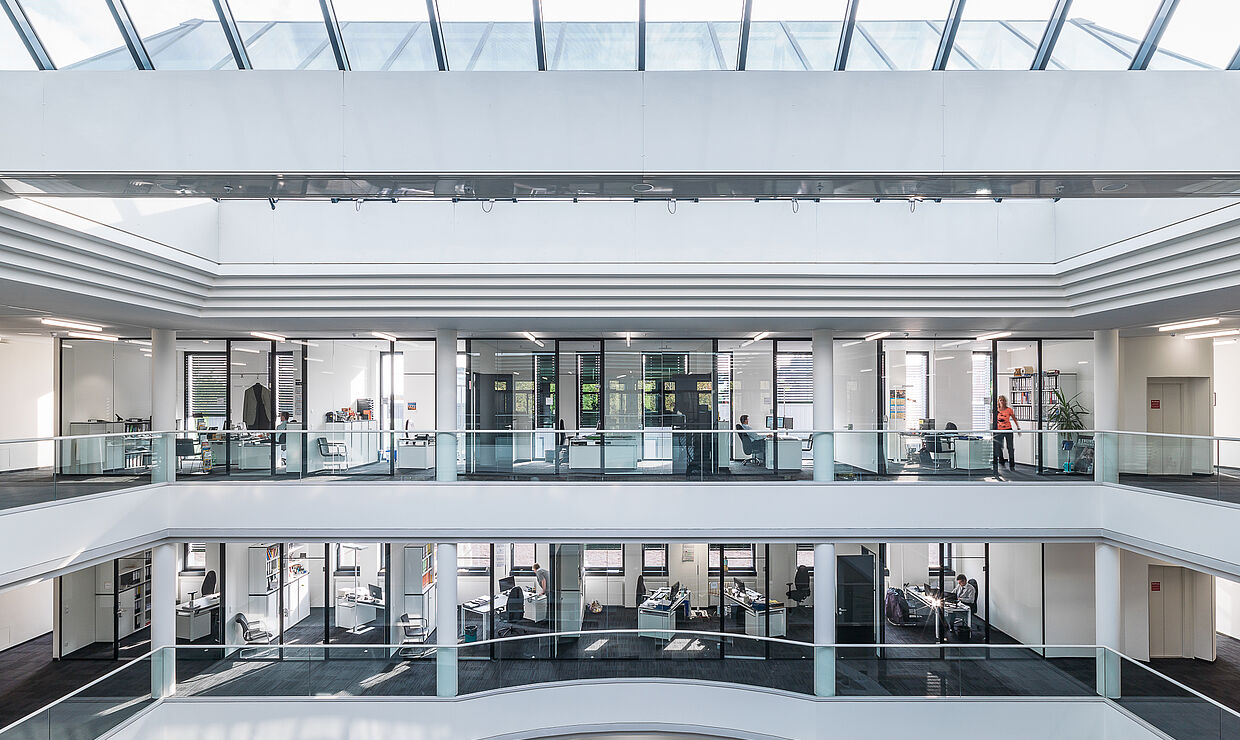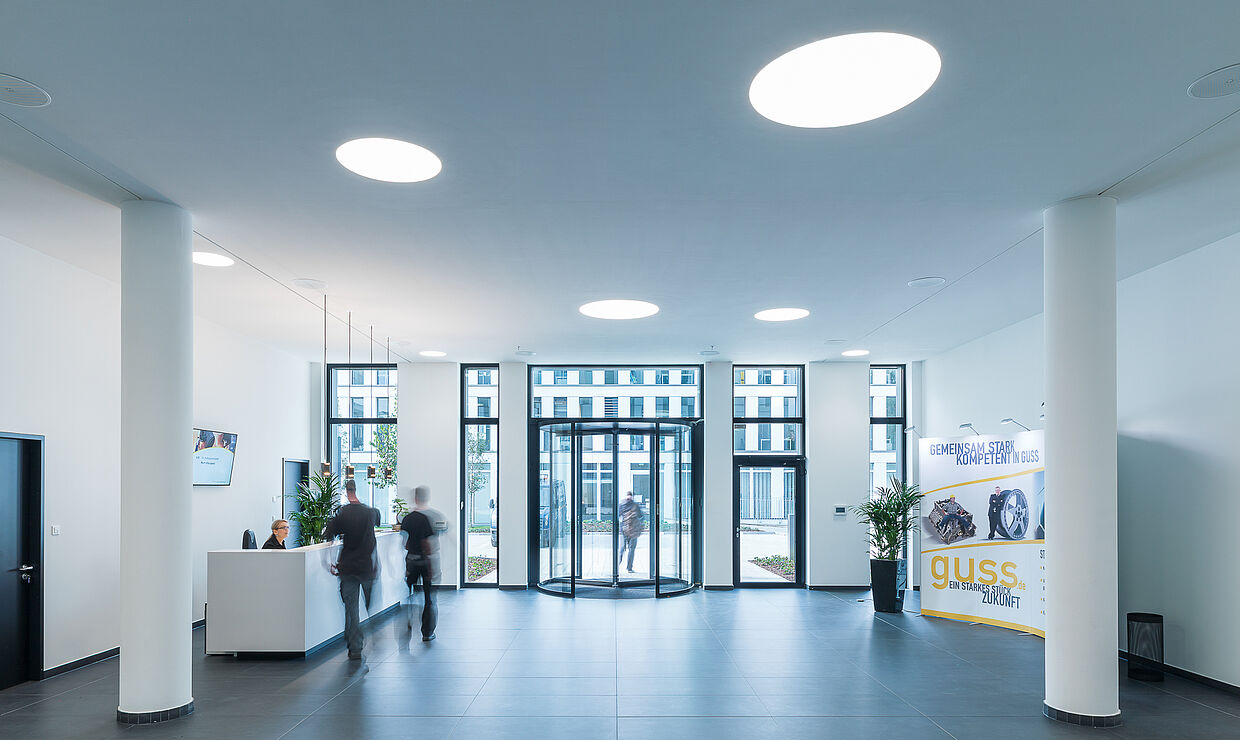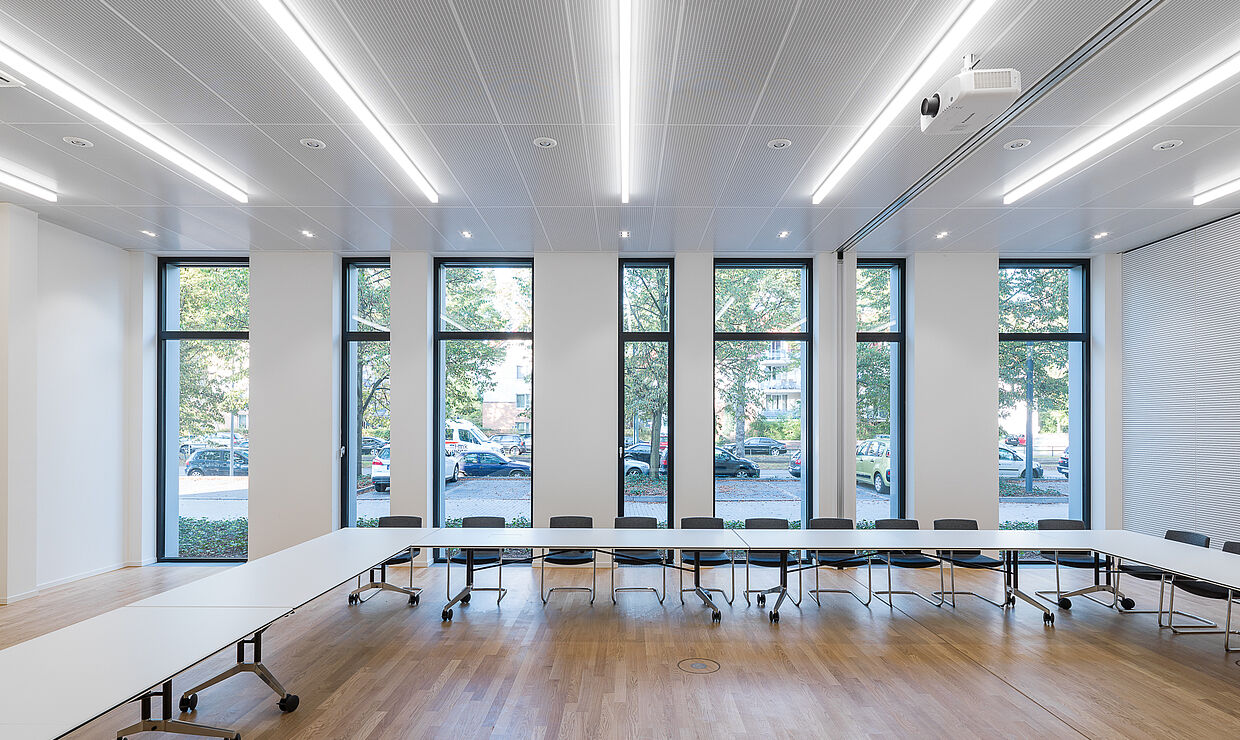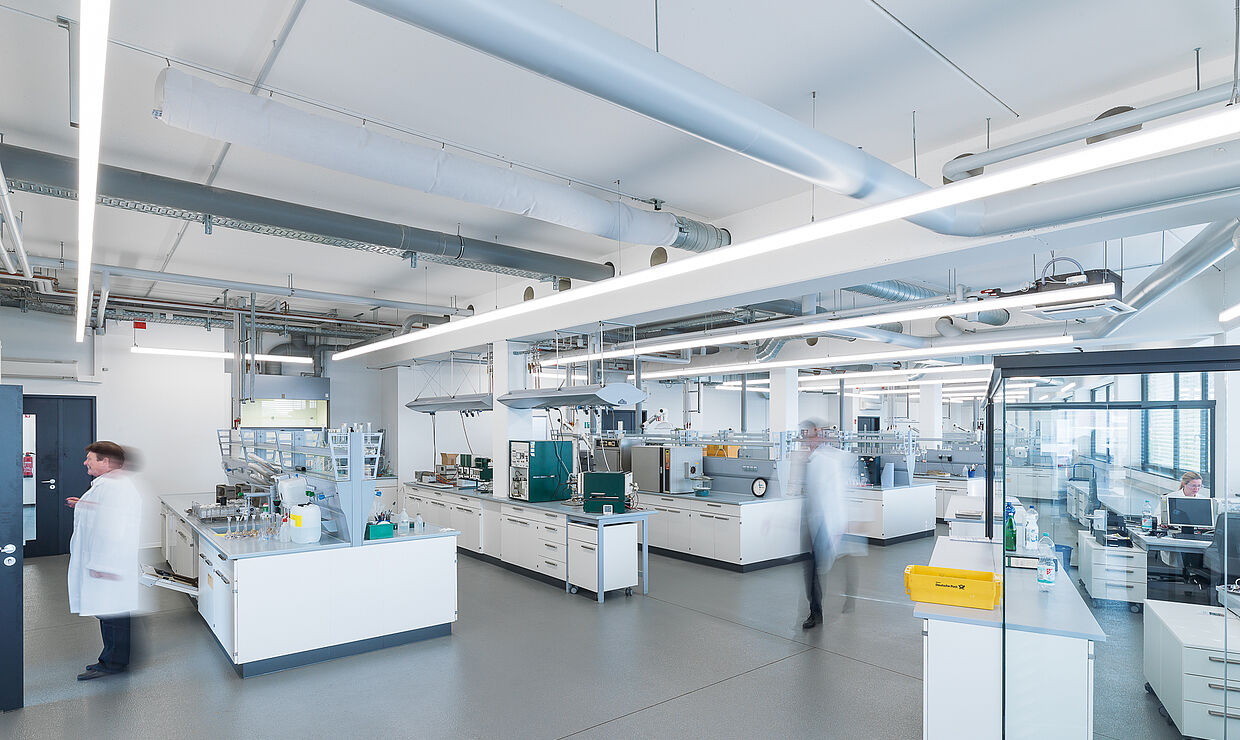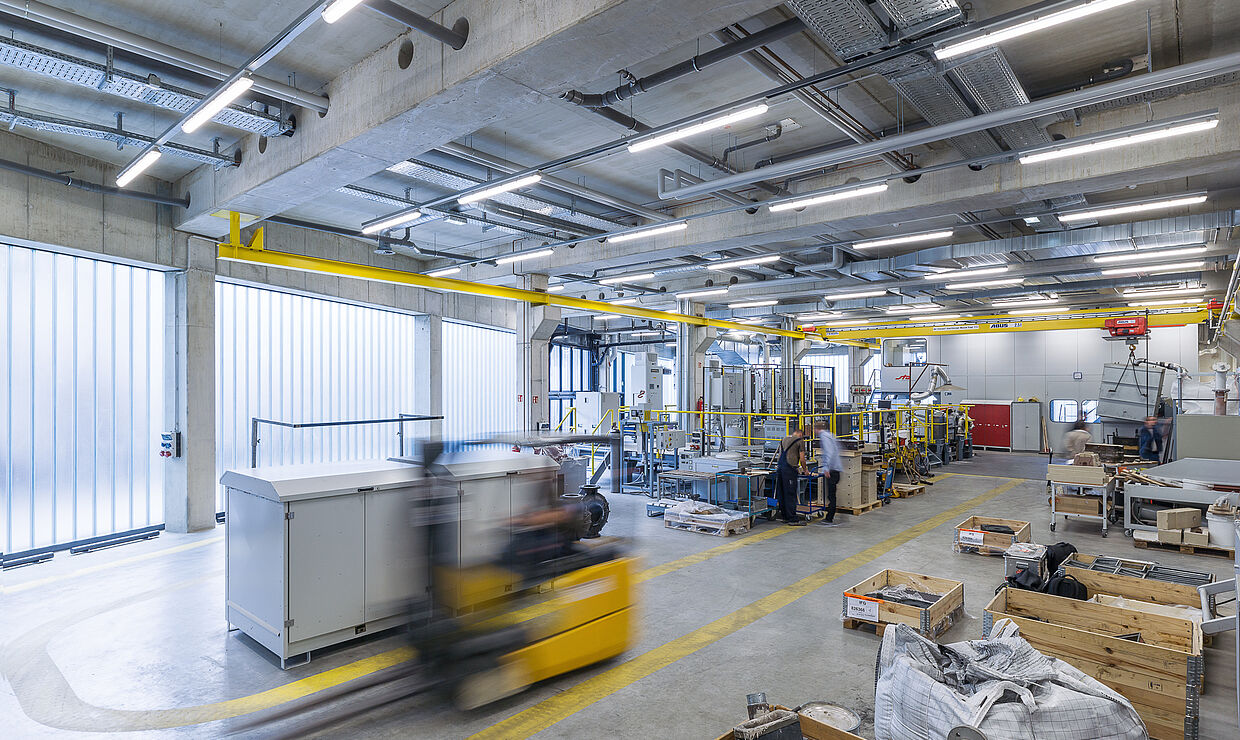 Federation of the German Foundry Industry, Düsseldorf, Germany
Client

BDG – Bundesverband der Deutschen Giesserei-Industrie e.V., Düsseldorf

Architects

BM+P Architekten Hesse Haselhoff, Düsseldorf
The modern headquarters of the German Foundry Industry in Düsseldorf correspond with the image the association has of itself and enables a number of different divisions and functional areas to be housed under one roof: a completely renovated administration building to accommodate classic association activities, a new extension for chemical and mechanical laboratories, and a test foundry for the analysis of materials and the optimisation of metallurgical processes. A single-source LED solution developed together with Regent supports the architectural concept.

On the strength of a convincing concept delivered by Regent, the lighting design originally planned from a cost perspective using conventional light sources was replaced by a solution using LEDs only. The payback period for the approximately 20 per cent higher investment required amounts to between five and seven years. This is thanks to measurable energy savings of around 50 per cent, lower maintenance costs and a longer lifespan. Besides saving energy, the LED luminaires also guarantee completely uniform lines of light.

Anyone entering the new Foundry Industry building is immediately aware of the strength of this branch of industry. It is an important supplier for the automobile industry and the mechanical and plant engineering sectors, to name but a few. The representative entrance and reception area is a bright, uniformly lit space. This is achieved using round, ceiling-recessed Solo LED luminaires with a luminous efficacy of up to 114 lm/W. Linear surface-mounted Flow LED luminaires with a luminous efficacy of up to 102 lm/W provide the general lighting in the conference rooms, offices and circulation areas. Dimmable versions are applied in the conference spaces. These are complemented by Kronos LED recessed gimbal-mounted spotlights. These square LED downlights feature excellent colour rendering and make for an energy-saving alternative to gimbal-mounted halogen spotlights. Tweak CLD LED free-standing luminaires equipped with presence detectors and daylight sensors are positioned next to the workstations.

Whereas the lighting in the administration building was realised using shorter lines of light, in the laboratory and workshop area, where higher illuminances are required, longer sections were applied – some as much as 12 metres in length. Flow LED pendant luminaires deliver the lumen packages required in the approximately 700 square metre chemistry laboratory. The mechanical laboratory and the test foundry have received moisture-proof Splash LED pendant luminaires. Technical LED luminaires from Regent support the visual tasks performed in the Institute of Foundry Technology with high efficiency.