Culinary delights for the senses in a theatrical setting
Spotlights by Regent Lighting for a unique shopping experienc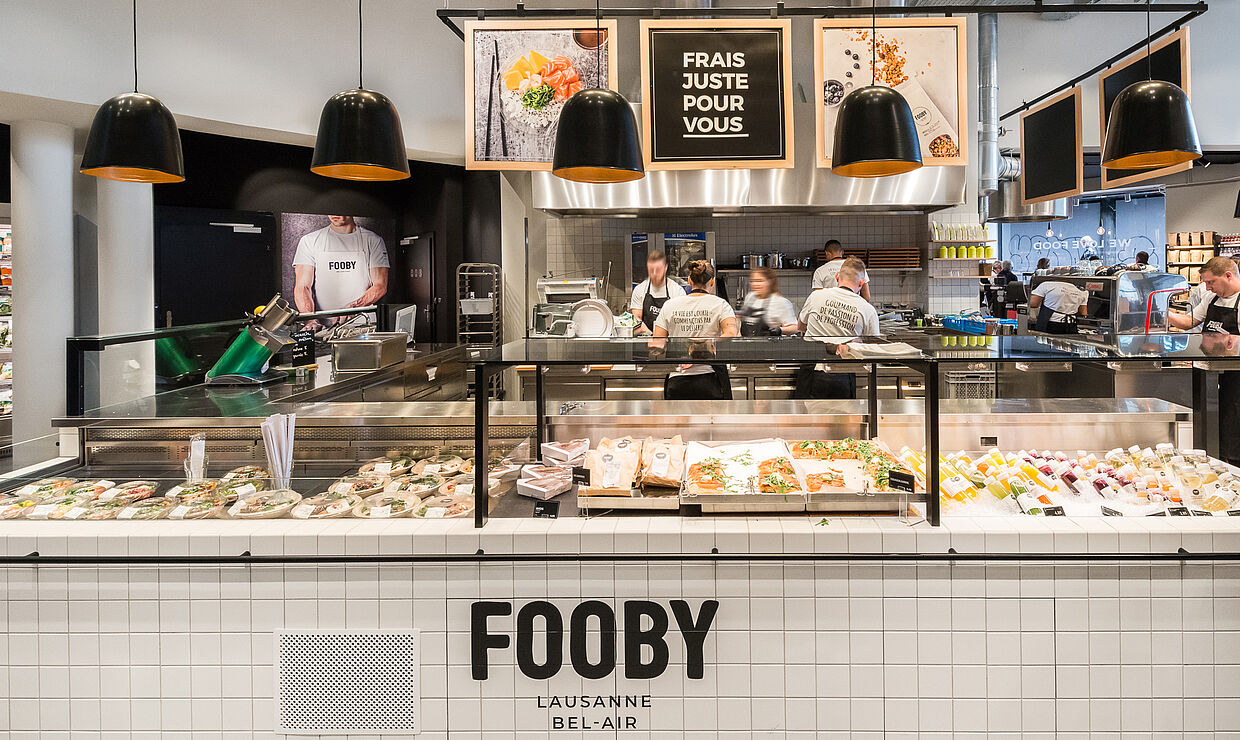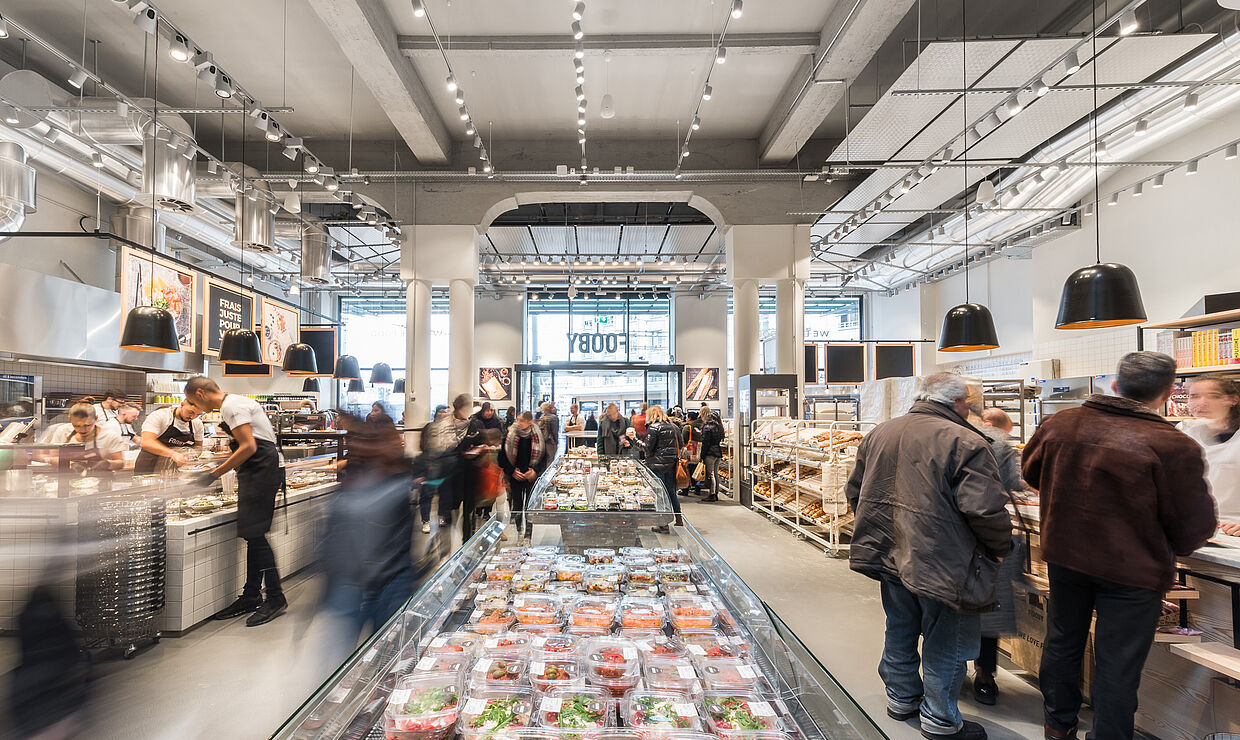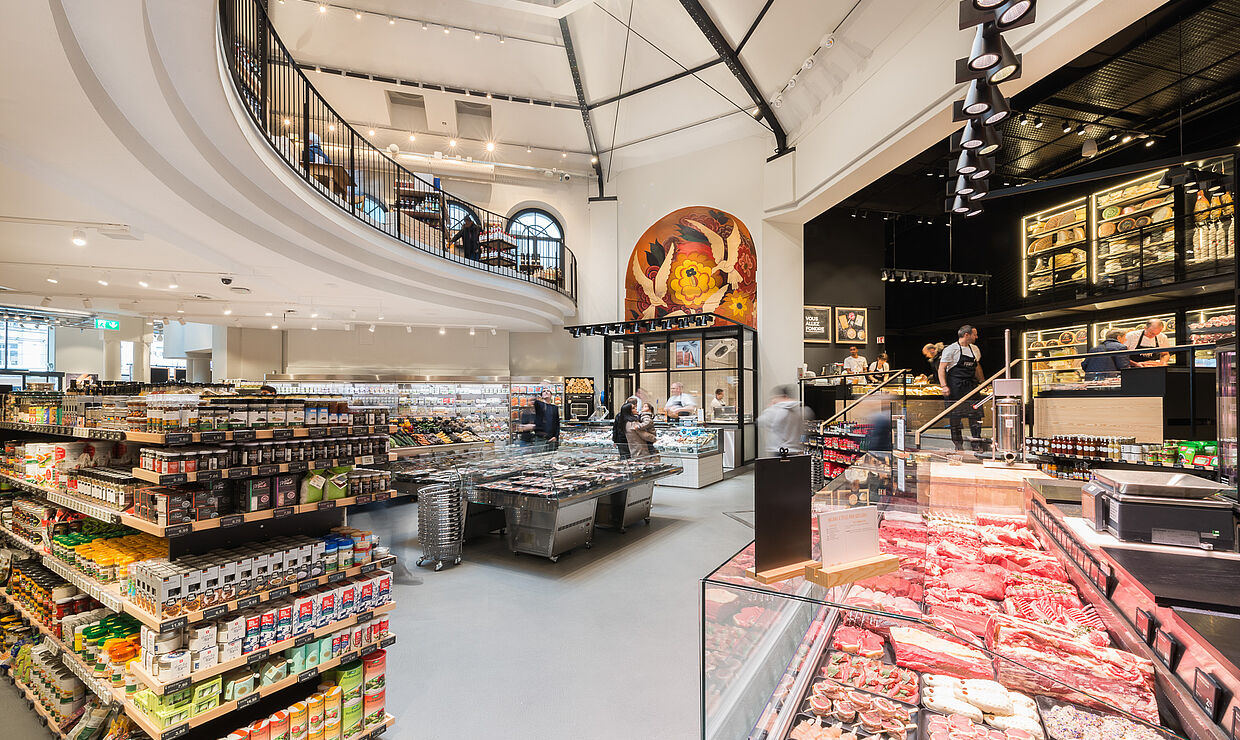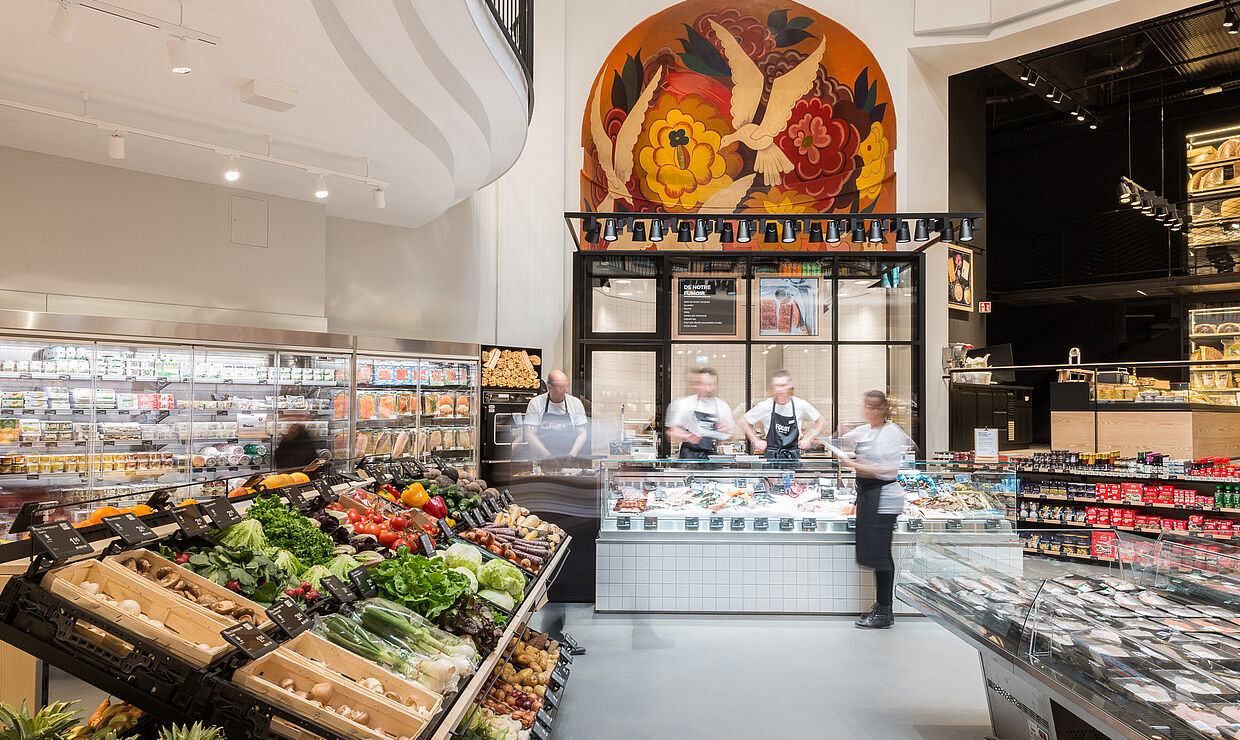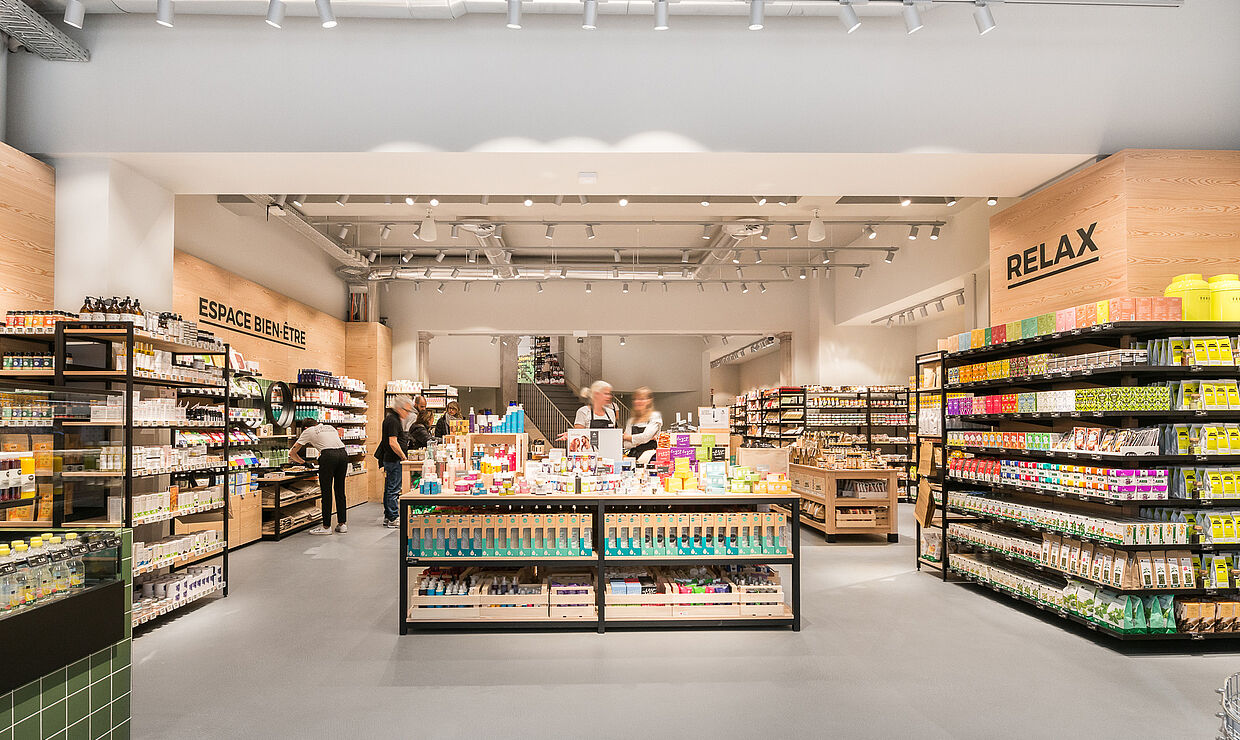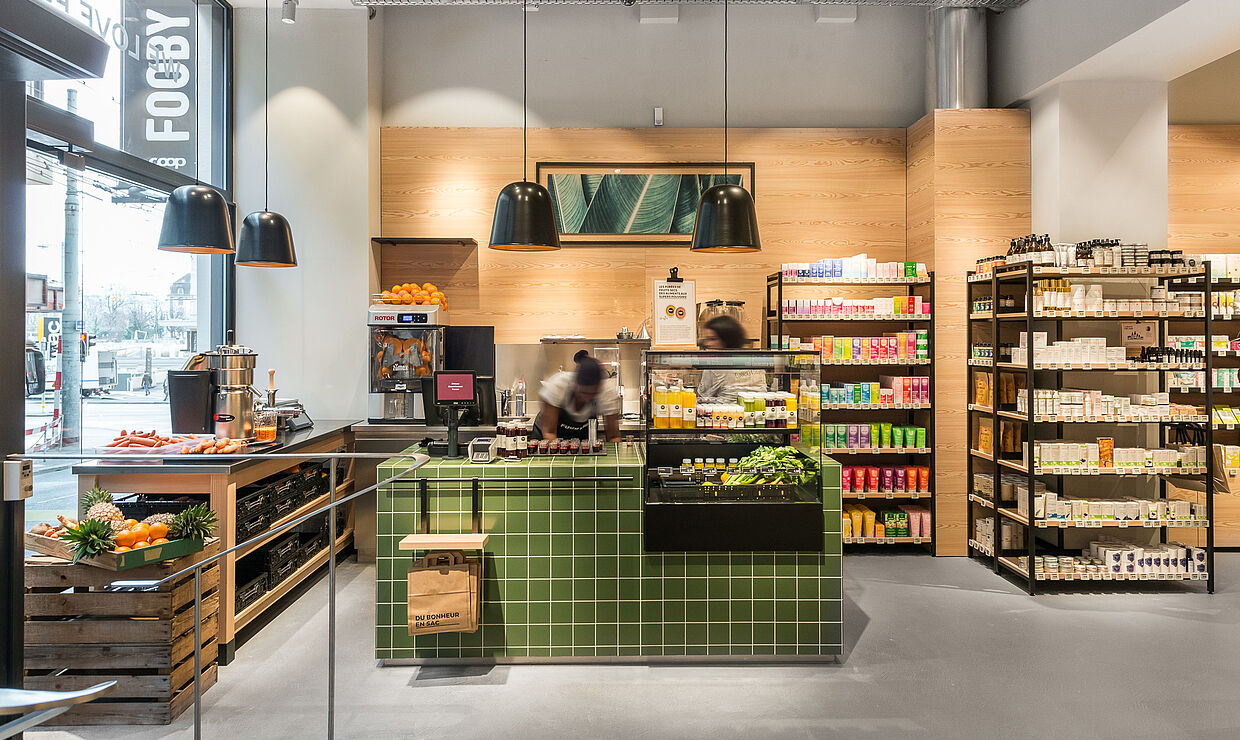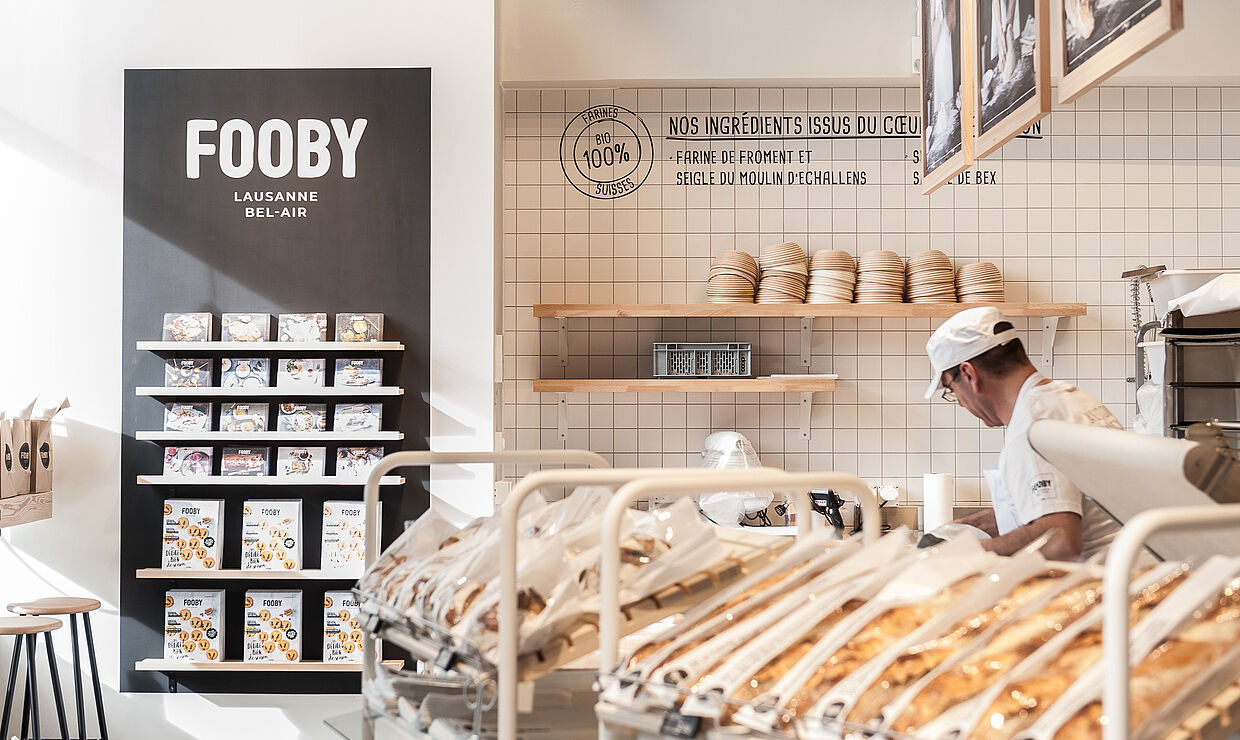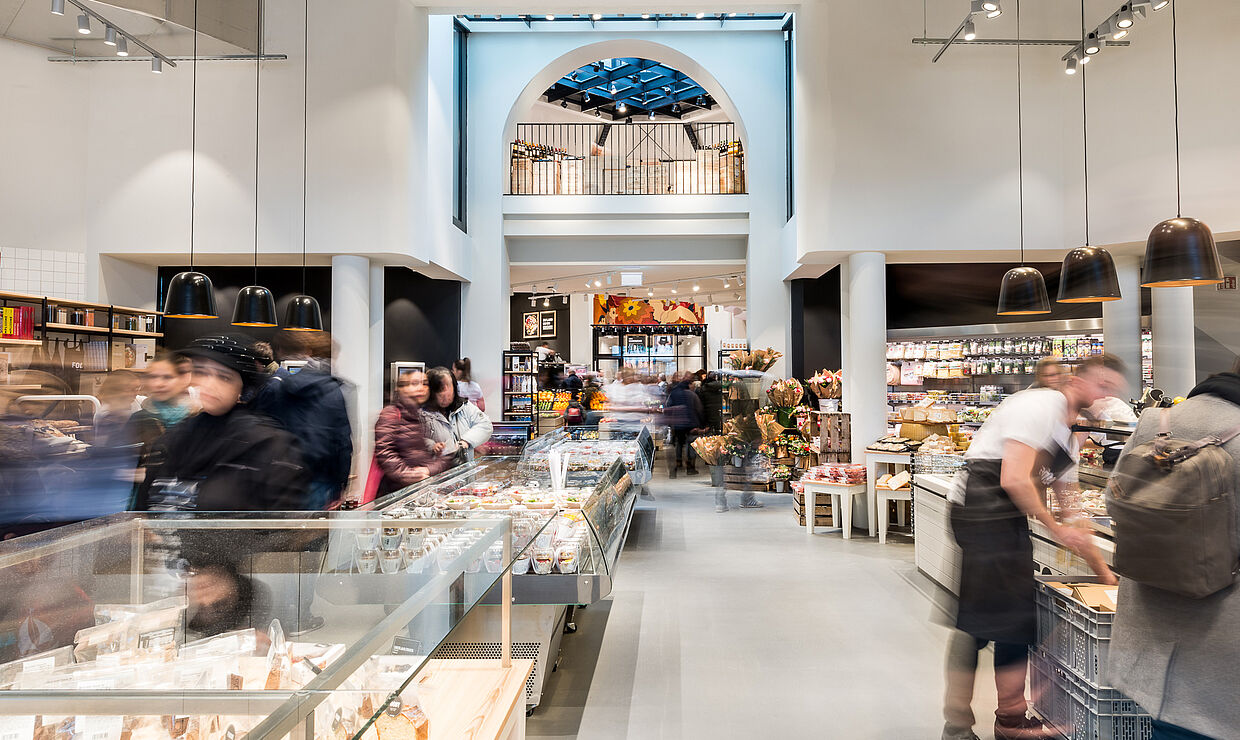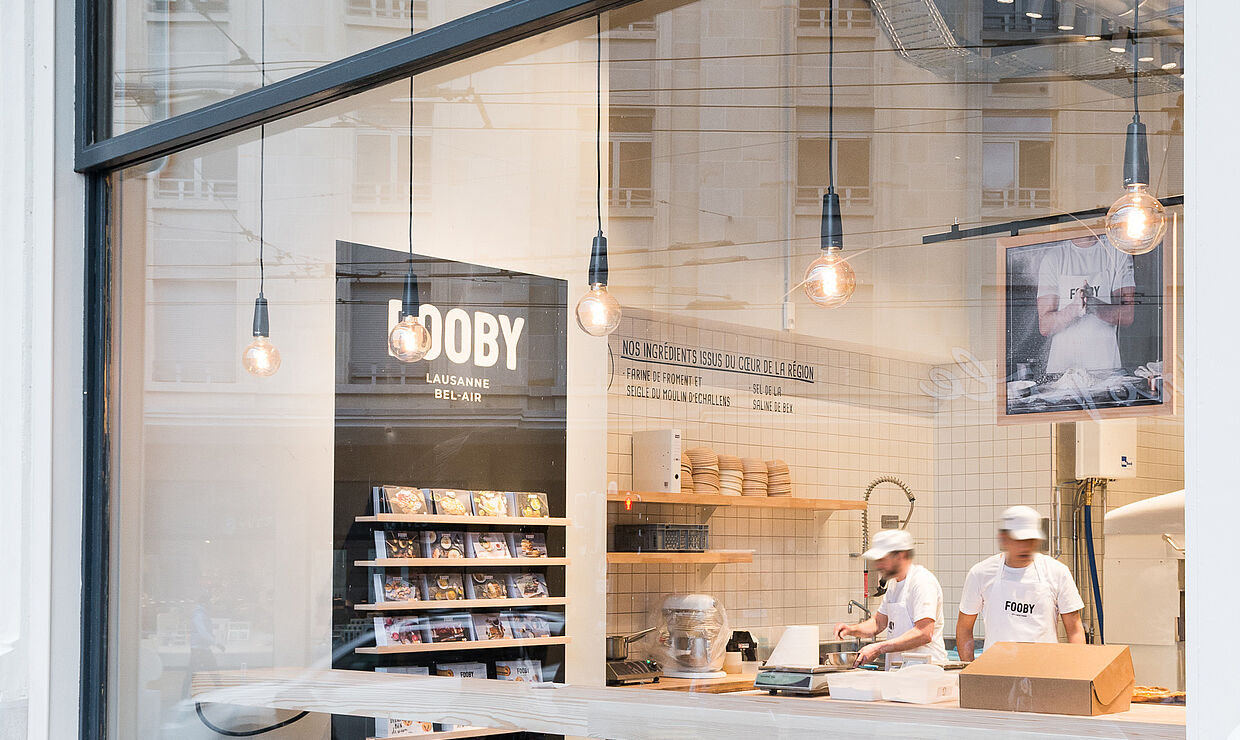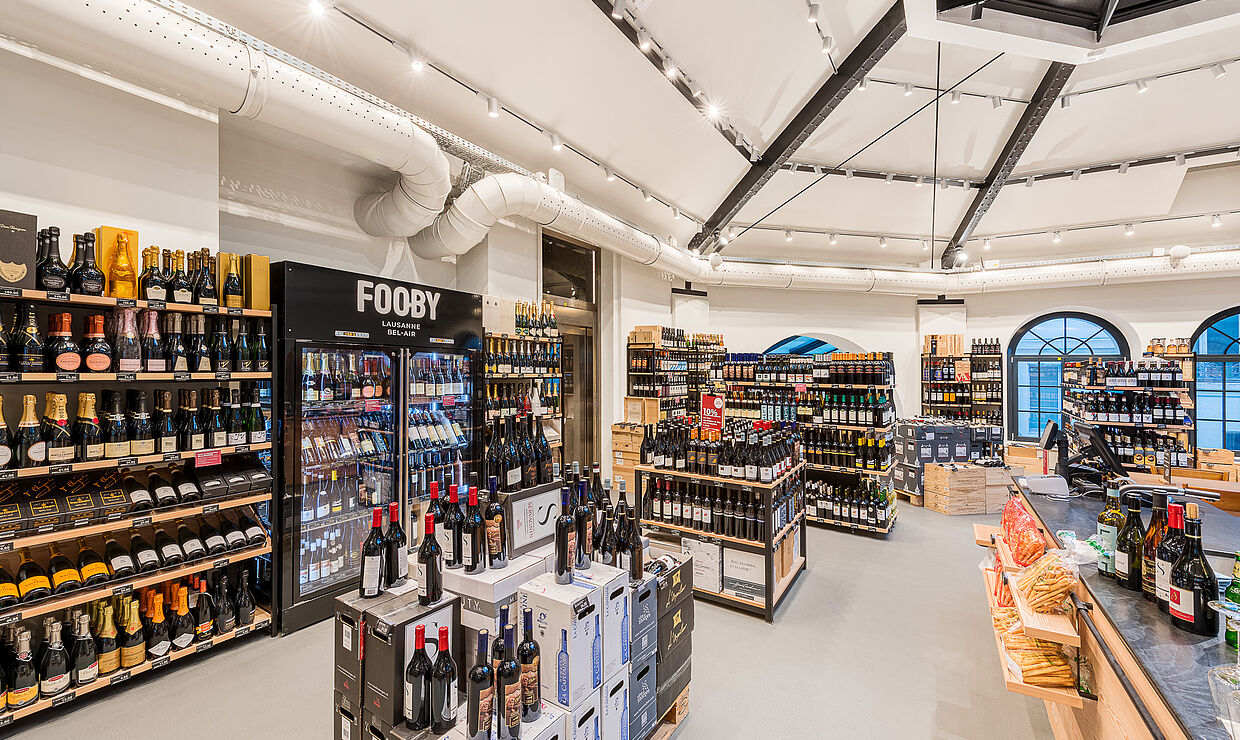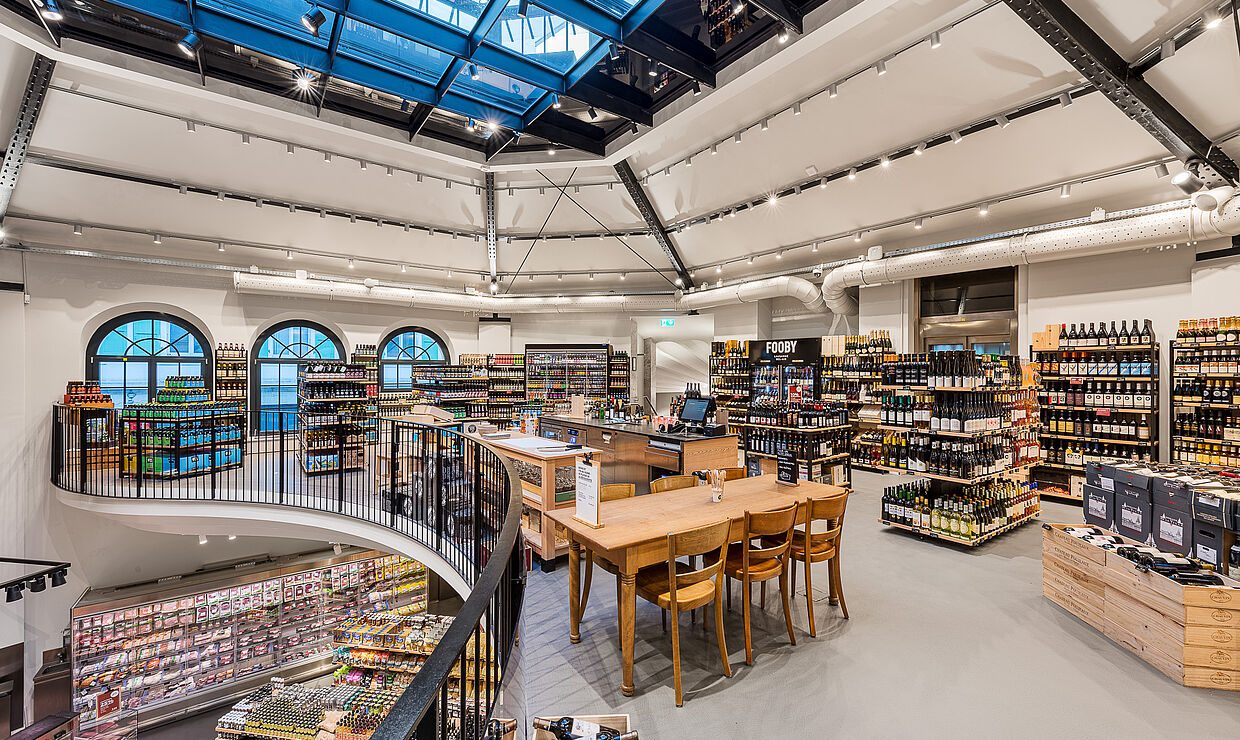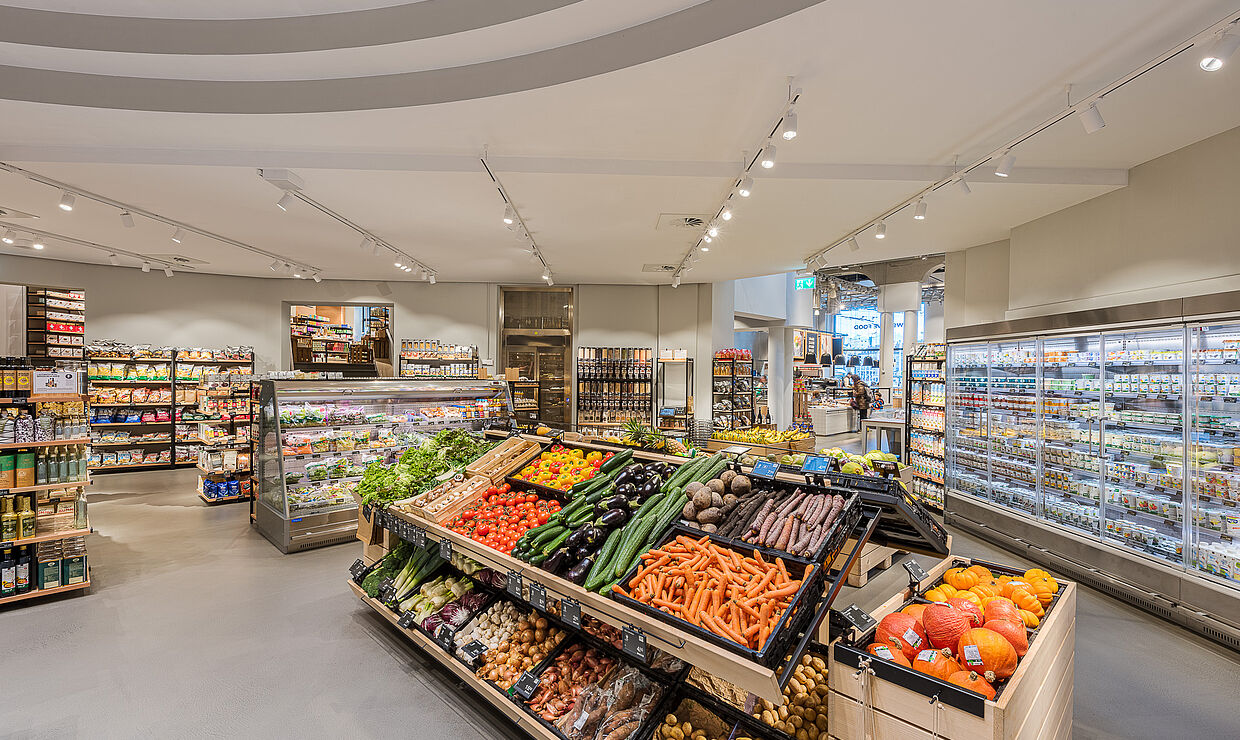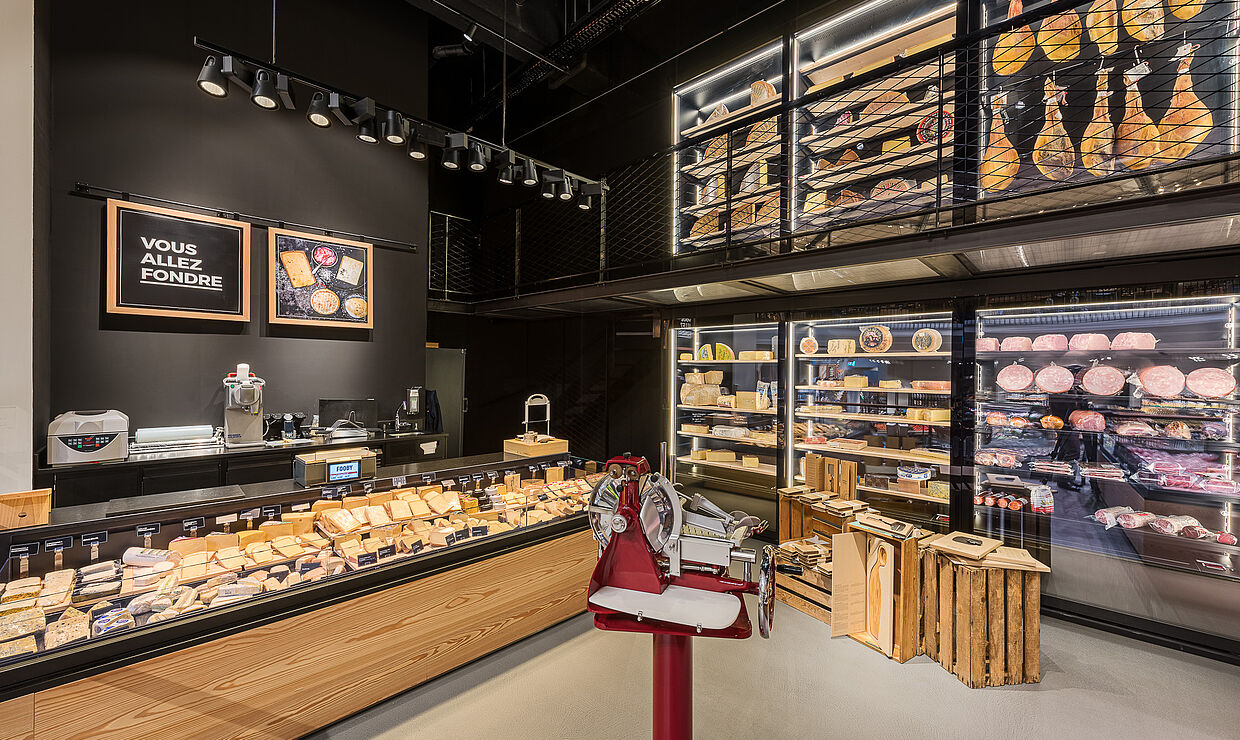 Fooby Lausanne Bel-Air, Lausanne, Switzerland
Client

Coop Suisse Romande / Coop, Basel

Architects

Interior design, store design: Brem+Zehnder AG; Innenarchitektur, Muhen; Architecture building: Squalli Architectes SA, Lausanne; Construction management: AMC Construction Management SA, Geneva

Lighting design

© Regent Lighting

Fotograf

© Brem+Zehnder AG, © Sue Baer Fotografie, © Regent Lighting
The attractively staged food at Fooby Lausanne Bel-Air is a visual delight of the finest kind. Spotlights by Regent Lighting put regional specialities and their manufacturers in the best possible light. The former Kursaal-Théàtre offers a wealth of shopping and strolling treats across three storeys and 1,000 m2 of sales space. With this concept store, the Schweizer Einzelhandelsgruppe Coop makes its culinary online platform Fooby come to life in an analogue setting.

The shop concept was awarded the "EuroShop RetailDesign Award 2020" for its successful interplay of architecture, colours, materials, lighting, visual merchandising and customer appeal. In the listed Kursaal-Théâtre, which was built around 1900, the theatrical atmosphere was retained with the basic structures of the stage and balconies on three storeys. For Marc Riedo of Brem+Zehnder AG, who was responsible for the store concept, the appeal of the building lies in the similarity between the theatre experience and the shopping experience. Customers can always discover new scenes in the striking building symmetry. The "open production" in the bakery, the fish and meat department and the convenience area makes culinary craftsmanship visible. "To make Fooby's freshness an experience in this historical building, we play with materials and colours: black, white and light-coloured real wood form the foundation and stage for the products and the brands", explains Riedo.

A sales-promoting lighting design with spotlights that match the theatre and also optimally accentuate colours was designed together with Regent Lighting. Didier Monnerat, the responsible lighting consultant, highlights how important a positive dialogue was in order to implement the interior designers' visions and also to offer them options for the rooms, some of which are up to eleven metres high. Marc Riedo feels this was successful: "We were given highly committed, solution-oriented advice, which made it possible to fulfil all our wishes for situational and scenographic lighting".

Matrix PAL+ track spotlights were used to highlight building elements and decorative features such as restored frescoes, creating a striking spatial effect. These are especially effective in demanding applications with their daylight-like colour spectrum and lifelike colour reproduction. With their clear, purist aesthetics, the spotlights remain visually unobtrusive.

In addition, the Matrix FOOD track spotlights show off fresh produce to optimum effect. "Our long-term contracts with major national supermarket chains show that Regent Lighting boasts special skills in this area", explains Lighting Consultant Didier Monnerat. To ensure that the colours of the illuminated food appear as natural and attractive as possible, lights with different colour spectra are used. Light sources with selected red components ensure that meat looks especially appetising. Yellow colour nuances are emphasised in cheese specialities, and other colour spectra are requested for fruit and vegetables, such as to whet the appetite for blue-violet plums or crisp green salad. To ensure the illuminated goods stay fresh, it is important that the LEDs used do not emit any UV light or heat.

Sua spotlights provide powerful, energy-efficient light for illuminating shelves with packaged food. The Sua product family offers a high luminous flux of up to 3200 lm and a wide choice of beam angles and light colours. No matter which variants are combined - all remain unobtrusive thanks to the uniform appearance and a simple design.

The overall picture of historical architecture, product presentation and lighting staging is impressive: "The lighting atmosphere in the store is superb", Marc Riedo is happy to report.